Police investigating Adams Morgan arrest | News
WASHINGTON (WUSA9) -- A video of a violent and confrontational arrest outside a bar in Adams Morgan has gone viral.
On Saturday night, police responded to the Heaven and Hell bar on 18th Street to help disperse a disorderly crowd. They ended up making three arrests as the situation escalated and turned violent.
A bystander's cell phone camera caught the struggle between police and 27-year-old Marquis Colbert, as officers try to handcuff the man they would later describe as acting aggressively and volatile. The video shows Colbert swinging his fists wildly, as officers pile on and hit back.  
One officer uses pepper spray to help subdue Colbert as an unruly crowd grows around them, some even throwing bottles.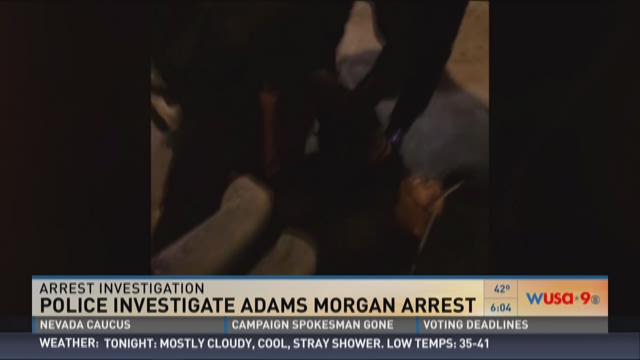 All I remember somebody said there's somebody drunk on the floor so somebody said move. So I'm moving and the police never said I'm police. He just went like this—pushing me. And I said 'don't touch me!' and next thing I know after that I'm in cuffs. I got maced and all that," Colbert said. 
Gracie Lhee Anderson owns Town Tavern, a bar two doors down from where the incident began and watched the encounter spill onto the sidewalk in front of her establishment.
"Unfortunately, when you have that many people leaving a building that are not in the know of what is happening, a lot of miscommunication and mayhem and pandemonium can break out. And that's exactly what happened on Saturday," Anderson said.
Police would also arrest two other participants of the mayhem who they said punched or pushed them. Both were released to await trial Monday.  
Police tell WUSA9 they're still investigating this incident. The video posted online will help, as will body camera video from at least one of the officers—which has not been publicly released.
Like this story? Like WUSA9 on Facebook.